Description
Fall in love with our autumn themed drop top guest book. It's a unique guest book idea which is the perfect addition to any fall wedding. Whether you're getting married in October or November or just having a fall themed event, this shadow box framed sign in book is a must.
Guests enjoy signing the fall colored leaves and dropping them in the frame. You'll enjoy cherishing it on your wall for a lifetime.
This fall colored leaf drop box guest book is a shadow box frame. It features a personalized tree trunk and leaves that will be signed and dropped in by your guests. Our alternatives are also great for baby showers, graduations, fundraisers, birthdays, or any other event that deserves to be remembered for a lifetime. Please take the time to read below to ensure you get the size and colors to match your event.
EACH FRAME CAN HOLD A DIFFERENT AMOUNT OF LEAVES. There are 3 different sizes of leaves, allowing each frame size to hold a different amount of leaves overall. The larger leaves allow more text to be written on them. There are 1.5″ leaves, 1.75″ leaves and 2″ leaves (see picture). The larger size of leaves, the less t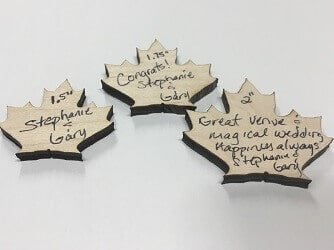 he frame will be able to hold.
In our humble opinion…
The 1.5″ leaves are a good size for just a name or two, but not much more. Maybe a name with a smiley or a one or two-word blurb, or a very small drawing- it's minimalist and simple.
The 1.75″ leaves hold more text. A great size for multiple names (often the choice of signing by couples). They can include a name with a longer blurb and/or a small drawing.
The 2″ leaves have even more room and are perfect for allowing guests to leave a short message with their name.
It's impossible to know for sure how many pieces will be signed. Most of the time 75% of the guest number is enough pieces for a wedding. Remember, most guests at events like weddings will fill out one piece if they're with a date. So if you plan to have 150 guests at your wedding, unless you make a point that each guest should sign a piece individually, you should expect to have less than 150 signed pieces. Because of this, we suggest 1.75″ or 2″ leaves with a frame that will hold 90-125 pieces. Of course, it's impossible to know for sure how many pieces will be signed, and this is just our suggestion. For something like a kid's birthday or graduation, we suggest getting close to around exactly how many guests you plan to have. Each guest will want to sign their own.
The frame sizes and approximate amount of each leaf size that frame will hold are as follows:

Make sure you have included:
The size leaves you would like. The amount each frame holds of each size leaf is fairly accurate but it may hold a few more or less.
Exactly what you would like engraved. In the case of the main item pictured, this would be "Jeremy (heart) Brandi 10-26-19" You may also choose something like "Mr. & Mrs. Schrading April 18, 2020" or "Rachel (heart) Jess 6-19-21" Anything in parenthesis will be considered an icon or symbol. Whatever you decide, we will design and engrave it to look as clear as possible. A name and a date will be on two centered lines of text, something like Ms. & Ms. with a last name and date, we put on 3 lines of centered text. We have received feedback that this looks and fits better. Let us know in the ordering notes if you prefer the text laid out in a different way and we will be happy to accommodate!
The font you prefer. There are 12 separate fonts you can choose from. In the product images, there is a photograph listing our fonts. Each font corresponds to a letter. If you don't choose a font, we will choose. We can also use copyright-free, free to download fonts. Just include the link where it can be downloaded in the order notes during checkout if you want a custom font.
The background color will be natural brown (hardboard) unless you specify a color. There is no extra charge for a colored background.
The interior pieces are made of 1/4 inch thick maple wood. The frame cover is glass. The tree trunk piece with the engraved names on it has a dark brown finish added. There is a hanging mount attached to the backside, so the frame can easily be hung on a wall.
The signed pieces are easy to write on. We've found nearly any pen works for writing on them; some better than others. All wood is different and will expand & contract in warm or cool climates. We include a few extra painted leaves for you to test pens on to determine which pens bleed and which don't. Regular sharpies typically bleed and ultra fine tip sharpies typically don't. We suggest just a regular Bic pen, as it allows a good amount of detail without the risk of bleeding. Test different pens out yourself and see which works for you.
We will include the engraved on wood instruction sign for free, in return for a social media shared picture of the product. If you select, "Yes, I'll Share You" you agree to share a picture of your Havoly guest book, either on Havoly's facebook page, or on your own media page tagging ours. You can also share us on instagram with @havolydesigns and #havoly. We'll be including the sign with your order and trust that you'll follow through. This is a great way to support small business and we truly appreciate it! We often post a collection of the shared pictures every month or two on facebook. If you have professionals take the photographs, we would love to share them! Please email them to [email protected] (this will count towards this requirement). Please write in the order notes the name associated with the page where you'll be sharing the picture.
We also offer more styles of alternative guest books. Our puzzle guest books, come in many different styles.
We work very hard to ensure only high quality items reach our customer's hands in great condition and on time.
~This item typically ships within 2-5 business days from the order date~